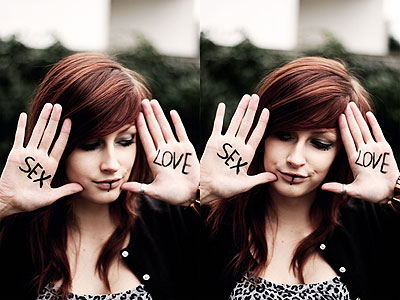 There's nothing wrong with spicing things up in the bedroom to have better sex. The key is to feel and act free of any sense of judgment and remember that you want to have fun and there is nothing in the world more fun than good sex. With that, here are ten tips to improve your sex life.
1 Try a blindfold
Take away sight and you automatically enhance the sexual experience. Whoever wears it is in a constant state of anticipation and each new move is a delightful surprise. Will you play with her breasts, kiss her stomach, lick her vagina, kiss her lips, or something else entirely? What she will do with you? The anticipation will add an element to the sex that spices it up beyond belief and makes it more energetic and passionate.
2 Massage her
A sensual massage for your woman will have her dripping with desire, without question. When done in a sexy, sensual manner the massage turns her entire body into an erogenous zone, although areas such as her breasts and butt are bound to provide extra arousal. If her sex drive seems to be down and she's having a bit of trouble getting all the way there the erotic massage is a perfect way to go.

3 Feel free to give instruction
It doesn't have to be kinky or dominant to give your partner instructions on how to please you. In fact, it can be hugely arousing and erotic, particularly if you're doing it in the throes of pleasure as you moan lustily. Give it a shot and see how it takes things to the next level. This will lead to better sex!
4 Dirty talking is amazing
Dirty talk will engage your brain and hers in amazing ways. It will make any stress or distracting thoughts melt away and focus you fully on the sex. Even better, if you try it only every once in a while it will be a truly arousing experience.
5 Lingerie and role playing
If you have a role playing fantasy then share it with her. If you want to see her in lingerie then buy it for her. Guys respond to variety more than women and if she wants to spice it up for you then she'll happily play a part. Plus, there's great fun in playing a role for her too.
6 Don't be afraid to share your fantasies
Just because you're sharing your fantasies doesn't mean they need to be acted out, in case you're worrying she's going to be freaked out. The point is to share your sexual desires with her to open the lines of communication and to let her know what drives you wild sexually. Best case scenario is she makes the fantasy come true. Worst case is she works some element of it into future sexual play.
7 Try a game
Sexual card games aren't just for college kids. Try a game of strip poker or war. Whoever wins gets to pick the sexual act they want performed on them. Try it all night long for a truly transcendent experience.
8 Cock rings can be fun
A cock ring serves the function of keeping your penis harder by restricting the flow of blood out of the shaft. It makes it look a little bigger and it feels better for both of you. Plus, you'll feel oddly confident with that super hard shaft.
9 Have thrilling sex in a new place
Sex in public, sex in the woods, or sex anywhere else new is a thrill that will kick start your sex drive like you've only imagined. You can judge your willingness to take a risk but the further you push it the more likely it is to be thrilling and energizing.
10 Try new positions
Variety is the spice of life and there are dozens of easy sexual positions you can try. From the Kama Sutra to an endless stream of websites you'll find recommendations for new positions. Try them all for a truly good time.