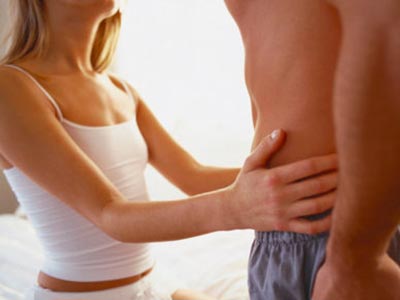 I was out to dinner with some friends the other night and we were discussing blow jobs. You would think that everyone knows how to give one. It should be a skill that you are born with, but apparently you aren't. When the conversation came around to one of the girls she was completely clueless. She asked questions like "do you just lick it?". At the time all I could do was feel sorry for the guys she's been with. Then I got to thinking, how do girls actually know what feels good? It isn't like they have their own penis to practice on. If you want a girl to go to town, downtown, there are some things you can do to show her the way.
Make subtle suggestions
There is a way to suggest head that is fun and entertaining, and a way to suggest it that is just downright creepy. Pulling your pants down and pointing is not the answer. Nor is putting your penis in a box with a ribbon. Bringing it up subtly is the best way to get your point across without sounding pushy or persuasive. Talking about putting your lips on something warm and hard, as an innuendo, is okay. Saying I want you to suck my dick, is not. If your girl is open to wrapping her mouth around your junk, you will know right away by her response. If it is out of the question, she will let you know by telling you that you aren't very charming.
Turn the channel to something hot and sexy "by mistake"
If you are sitting around watching television, there is no better advertising than a good movie. In this age of cable there is bound to be something that you can turn on. If you know she is coming over to sit around, order up a porno and mistakenly hit the channel for it. There is almost assuredly going to be someone giving head, there always is. If you really want to get tricky, you can pause it beforehand, just waiting for the time to turn it on. Once she sees it, it will give you the perfect opportunity to suggest that it is something you enjoy yourself.





The Win-win approach
The next time you are out with friends have your friend suggest that blow jobs are like giving a guy flowers. Many girls don't understand how enjoyable they are. The last thing girls consider when they are thinking about sex, is a blow job. Often times they are thinking about the best position for your pleasure, or the right place. Blow jobs seem to be something that they left behind in middle school. If your friend suggests it, not only will it remind his girlfriend, but it will get your girl thinking about what he said. Sometimes it isn't that she isn't on board. Sometimes it is just that she doesn't get it. The beauty is that you get to look like an innocent bystander.



Give a little, get a little
If you think oral sex is just something that you enjoy, think again. Women love oral sex, they are just not into asking for it. If you want her to put your parts in her mouth, reciprocate. When you head south on her, your junk will be in the perfect position to find her mouth. Nothing is more mutually satisfying than 69. You both get to get your rocks off without the eerie silence of only one of you enjoying it.
Clean it up
If you want her to go down on you, make it look fun. She isn't going to want to get a mouth of curly hair in her mouth any more than you do. By doing a little manscaping you will make it look more enticing for her to want to partake in. Tell her that you were thinking about her, and wanted to make it all clean and fresh. You may not even have to suggest it. When you show it to her, she will be more likely to want to rub something all over it, and enjoy it. Don't forget the whipped cream, it will be like dessert for two.