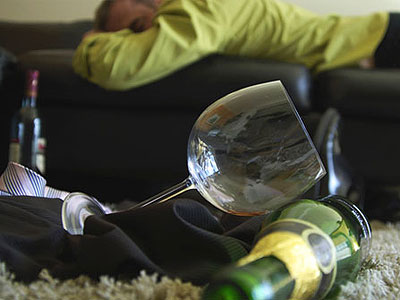 Not surprisingly, drinking and alcohol can have wildly divergent effects on sex, just as it can a night at the club or adventuring through the city. It's all about how much alcohol you consume. Chances are good if you drink then you've seen both sides of the spectrum and know how a bit of booze can make it much easier to get laid or can send you into a spiral of shame since you drank too much and can't get it up or end up puking in the middle of thrusting.
The Bad About Drunk Sex
Too much alcohol can inhibit a man's ability to get an erection, a truly unfortunate occurrence if you're making out with a gorgeous girl you met through a sex dating site or at the bar. Drunk Sex even worse if you're both naked and she wants nothing more than to feel you inside her and you can't even get hard enough to get the condom on. At that point the only thing you can do is go down on her and hope that enough of the booze will wear off that your willy will work again. Otherwise it's a night of bad sleep for you without the satisfaction of orgasm and a good chance she tells her friends that you couldn't get it up, which means humiliation for you.
If you drink way past your limit all sorts of bad stuff can happen, which is why it's impossibly stupid to do so. A minor blunder would be vomiting during sex, either on her or all over your bed, making a big mess. You might also black out and forget the evening entirely. You might forget to put on a condom or decide that you can't hear that she's telling you no and get into real trouble. Plus, if she's drinking too much and you're sober or much closer to sober you can get into murky legal waters if she's not so happy with the sex the next morning. Limit yourself to a few drinks.

The Good About Having Sex Drunk
Alcohol is widely accepted and used as a social lubricant because a drink or two successfully lowers inhibitions in everyone. If you're terribly afraid of rejection or a little bit shy normally, a few drinks might make all of that fade away and leave you in the mood to hit on a girl you'd typically never dream of approaching. That sort of confidence can only lead to good things. They call it liquid courage for a reason, and that reason is that the part of your brain that tells you to be scared of approaching a pretty girl, flirting, or even asking her to go back to your place is quiet since it too has had a few drinks.
The same is true for the members of the opposite sex. The lowering of inhibitions can have an entirely different effect. Men are horny and think about sex all the time. Women are often taught by society at large that having sexual thoughts and wanting to be a bit wanton is a dirty, terrible thing (this is particularly true in much of America). A haze of alcohol over their minds means those thoughts drift away and are replaced by the lust that all humans have inside them. This is a very good thing and it means that if you play your cards right you get to have amazing sex with a girl that would normally be a little scared of the repercussions of a night of unbridled passion with a man she's just met. The more you practice the better you'll get at spotting the girls that quickly throw back a drink or two because they want great casual sex and know they need a bit of alcohol to make it happen. Those are definitely the girls you want to go home with.