The Art Of Picking Up Girls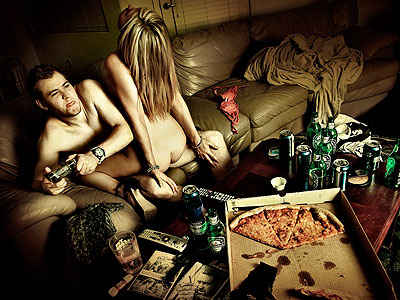 Millions of words have been written over the years on the art of picking up women, seducing women, running game, etc. Every book purports to have a magical system that helps you nab the girl of your dreams or just the girl of your fantasies for that night. All those books and blogposts are helpful and might actually get you what you want but what they teach all comes down to one thing: confidence. It sounds so simple but if you really look at what you're being taught it's all about the confidence. Some guys need a system so they will appear confident. Some guys need a pep talk so they can feel confident. Some guys need specific lines to run so they don't have to think and thus lose their confidence. That's what it all comes down to though.
The art of picking up women is all about utilizing your confidence. When a guy uses the worst pickup line you've ever heard and the girl actually responds it means that he delivered it with confidence (sometimes it means that he's incredibly good looking and he could have spilled gibberish from his mouth and picked her up but those guys are confident too so the lesson holds). Pickup lines are incredibly stupid but they serve a purpose: to break the ice. All you're doing is finding a good way to introduce yourself to a girl. That's why you can usually just introduce yourself and offer to buy her a drink. A simple compliment is a good way to follow that up and segueing into conversation of almost any kind is recommended thereafter. Follow that formula for picking up women and you'll be amazed at how often it works and at the very least gets you a nice talk with a lovely girl. If you don't have much experience at this sort of thing you'll need to practice but you'll get where you need to be eventually so have faith.

Let's get a little more specific now. It's always been a good idea to make the first move but that's true now more than ever. If you're interested in a girl then go ahead and talk to her. Introduce yourself, buy her a drink, and start a conversation that gets you on the road to knowing her. If you want her number than ask for it. Don't be afraid that you're going to be rejected or that she's going to feel like you're somehow being sexist. You're not; you're being a man interested in a woman and that's all there is to it.
You need to avoid being immature at all costs. There is truly no bigger turn off than an immature man. Some guys have an immature sense of humor; if you're one of those guys you'll need to table that. Making a girl laugh is great but if your only material is dick and fart jokes you need to put them away and come up with something else. I'm telling you, immaturity is like female repellent and will get you walked away from faster than you can believe. This is #1 to remember when picking up on girls.
Before you introduce yourself to a girl and try to start a conversation you'd be wise to know something about her. Watching her for a few minutes (not in a weird and leering way, of course) would be smart so you can pick up on her behavior and have something to mention when you approach would be smart. Picking up girls is an art take your time and do not rush. This sort of thing will take a little practice but it's well worth it. Breaking the ice is the hardest part of this whole thing, along with getting comfortable with rejection, which will happen plenty when you put yourself out there.