How To Get Her To Have Anal Sex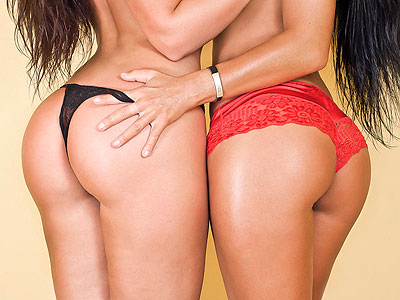 For some guys, getting her to have anal sex is the Holy Grail of relationships. If you're a man then there's nearly 100% chance you've thought about anal sex with your girlfriend and you've probably brought it up. If you're like most guys then she shot you down without considering it. Those girls that were willing to try probably hated it and have sworn off ever trying it again. This happens because it's generally painful since that area is not nature made for sex. It needs to be carefully prepared, as does the rest of her body. That's why you need to work at getting her to have anal. The good thing is it tends to be worth it for both of you.
If you want to find sex through the back door you'll have to be exceptionally patient. Girls in porn make it look easy and painless but they are definitely not an accurate representation of how most girls experience anal sex (they thoroughly clean the area, they've been stretched, and they often use a numbing cream to dull the pain). Getting her to have anal starts with asking and you need to do it right if you want to get her to try anal sex for the first time.

When you bring up the subject you need to be sensitive about it, as strange as that might sound. Anal sex is still relatively taboo and if it seems like you want to have it because you're a dirty guy that just wants to check another sexual experience off your list she's likely going to be turned off before she even considers it. The truth is that if anal sex is done right it will be immensely pleasurable for you and her, so that should be a part of your pitch. Don't go too heavy on that though; if you start off talking about how good it's going to be for her then she's going to think laying it on too thick. Tell her that you really want to try it, that you will make it good for her, and that if it's uncomfortable you'll stop immediately and forget about it forever.
Once she agrees you need to make sure it's actually going to be good for her. Relaxation and lubrication are your friends in getting her to have anal. First there's the relaxation. You'll need to go heavy on the foreplay, which will get her in the mood and get everything down there to relax, thereby allowing anal passage with greater ease. Focus on her. Kiss her all over, play with her breasts and pussy, and ensure that she's soaking wet and ready to play. That's when you bring out the lube. Use lots and lots of it. Squirt some inside the anus and load your shaft with it. Spread it all around the anus too.
Doggy style is probably a bad position to start with since it can feel really impersonal to her. You could try her on top so she can control the penetration or you can go missionary. If she's willing to do it from behind then go for that. It's wise to use a condom, both for safety and to keep your shaft clean (it's also wise to have her clean out or to have anal sex after she's had a bowel movement). Take your time as you insert your penis into her, going nice and slow so she can stay relaxed. A little pain is normal but if you rub her, soothe her verbally, and tell her how good it feels and how it's going to feel good for her chances are good she'll eventually get into it.