Fake Profiles On Sex Dating Sites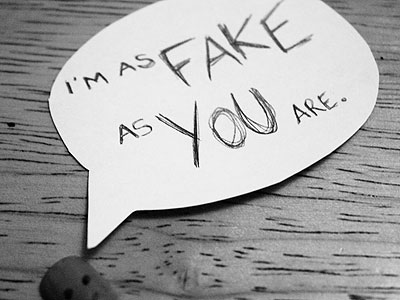 Fake profiles abound on sex dating sites and they're almost always of the female variety. Some are profiles used by the site to lure free members into paying and some are escorts looking to lure you into paying cold hard cash to spend some time inside of them. You join an adult dating site because you want free casual sex (outside of the membership fee, of course) so you'll want to avoid any fake profiles and concentrate only on the real women.
This article will offer helpful tips but the best thing you can do is actually spend a lot of time on a sex dating site looking through profiles. The more you read the easier it will be to pick out the obviously fake ones and weed them out (with any luck the site you joined will offer a way to mark the fakes or ban them from your personal search results). You'll be reading profiles before you send messages anyway so just be sure to pay attention to what you're reading and build your experience.

Fake profiles created by the site to convince free members to join are usually of the too good to be true variety. They're almost always sloppily done and the clues are always in the text. The girl will talk about how much she loves sex, sports, video games, etc. Her picture will generally be hot but not obviously professional. She'll tell you that she's a dirty girl willing to do just about anything as long as it feels good, etc. Those profiles are always fun to read and they're always bullshit. A woman that loves sex and a whole bunch of guy stuff would not have to go on a sex dating site to get laid and her profile is a guaranteed fake.
Escorts make up a significant portion of the annoying fake profiles on casual sex dating sites. All the girls on there should be looking for sex without money but these babes know a captive audience when they see one so they pay for memberships and put up profiles. There are ways to weed them out though.
Always start with the pictures. The general rule of thumb is that if the picture looks professionally done then she's probably a professional. Even if a regular girl has professional photos (maybe she's an actress or a model of some sort) she's almost certainly not going to post them on a sex dating site where anyone can see. If the girl is an escort that wants to look her best then she might post the photos on the dating site and she would use them to arouse you into messaging her despite your gut telling you that she's full of it. On the opposite end of the spectrum you should generally skip over any profiles that offer no pictures at all. Every girl that leaves her pictures off has a reason but it's not worth the messaging game. Just skip her and move on to someone willing to show her picture, even if it's not a face picture.
Check the text of any profile on an adult dating site and you can find clues to possible fakeness. If there is any mention of a donation (sometimes called roses), if she uses dollar signs ($) anywhere in the profile, and if she mentions cab fare you should move on. These suggestions are meant to be subtle so the girl doesn't get busted for coming right out and offering sex for money. They're also reasons for you to skip that escort and find a girl that wants to have wonderful casual sex without charging you.