Using Porn To Improve Your Sex Life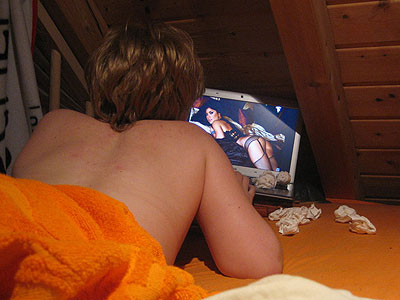 It's generally accepted that porn is made for men and they're the only ones that want to watch it and mostly use it to masturbate. That's at least partially true, but it doesn't have to be the whole truth about porn. It can be so much more than just a tool for male fantasy. Porn can be a way to improve your sex life. Most women have lots of preconceived notions about it though so it can be a challenge to get your wife/GF/casual hook up to warm to the idea of incorporating porn into sex.
Before you approach her about it you need to pick out a good movie. If you know of a particular fantasy of hers you can cater your pick to it. If not, you should probably go with something that features highly erotic action. You often hear that women need a storyline, but that can be misleading. What women most often enjoy in porn is a strong sense of desire. Watch most porn movies and it's a purely physical thing with the guy finding new ways to thrust into his girl's mouth, vagina, and anus. Guys are visual creatures and like that. Women tend to need something more, which is why you need a porn movie where the performers imbue the action with wild, passionate, sensual, erotic desire. These movies are harder to come by but there are a number of producers that specialize in them (particularly companies run by women) so do a little research.
Once you've found your movie you're ready to spice up your sex life. Approach your girl in a way that communicates that it's all about the two of you making things interesting. Insecurity is the a typical response. Am I not enough for you? Why do you need to watch another girl? is frequently heard. That's expected. If she comes at you with that you need to assure her that you love your sex life but you also want to keep trying new things and that this is something you're interested in. It's about finding new ways to explore with her, not about looking at another girl while you have sex with her.
Throughout the experience you need to emphasize your girl. As you both watch you should make sure to touch her, although not in an overtly sexual way at first. Tell her how beautiful and sexy she is over and over. Soon enough she should be secure enough in your lust for her to really cut loose, which is when you'll see the sexual improvements.
It's in that cutting loose that you'll find the biggest differences in your sex life. Once she's in a mood to be naughty she'll happily try a new position that she sees on screen. The moans coming from the guy and girl having sex will inspire the both of you to let the dirty talk flow, something that can improve sex immeasurably if you give it a chance.

If the first experience is a good one you can expand and try new movies, to help improve your sex life. That allows for the opportunity to role play. Perhaps if she sees something on screen she'll be willing to do it in the bedroom (naughty teacher or secretary, etc) and spice things up. Every girl has an inner sexual tigress but most never let it out for a variety of fears and insecurities. The more comfortable you make her the more willing she'll be to uncork that tigress and take you to sexual heights you've never been before. Just remember that it always has to be about her and about making the sex between the two of you better, not about you introducing your weird porn obsession to your relationship.